Home » Latest, Play
From Martinis to Milk
If you're new here, you may want to subscribe. Thanks for visiting!
The other day my sister and I were driving around listening to Lady Gaga. Since seemingly half of her songs are about being in a club, I wondered aloud if a particular song would actually be any fun to dance to. To which my sister responded: "Well, you see, Megan, in a club they have a D.J. who mixes two records togeth…"
"Allison, I KNOW what a D.J. does. I've BEEN to a club. I'm not THAT old!"
"Oh, no I know! Of course you have. Sorry."
As I sat there recovering from my righteous indignation, I tried to remember the last time I had actually gone dancing. I looked at my toddler sipping milk in the backseat and realized with horror that the last time I had a taste of the nightlife I was in the early stages of my pregnancy with her. So early, in fact, I wasn't even aware of her existence.
I had gone to West Hollywood to dance at some gay bars with my husband and three of my favorite boyfriends. There was expensive vodka, beautiful, scantily-clad men, drama, and a couple of them fancy, new-fangled D.J.s.
And I realized how much I missed that night and so many others like it. There are many advantages to having children in your twenties, but the drawbacks are also plentiful, and one of them is saying goodbye to (social) life as you know it.
No matter how many times you tell yourself that you will still find time to party, once reality sets in, you'll probably find yourself sitterless on a Saturday night, plunging your hands into a bubble bath.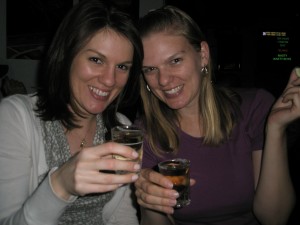 The good news is, you'll be having almost as much fun as you did at those clubs.