Home » Headline, Latest, Play, Work
Billabong Party Time
If you're new here, you may want to subscribe. Thanks for visiting!
Billabong held it's 5th annual Design For Humanity on the NY Street Backlot of Paramount Studios, now otherwise referred to as the Surfer/ Surfer lovers carnival for big kids.  Headlined by indie band Edward Sharpe and the Magnetic Zeros, who announced this would be their last show in the US this year ( tear) were almost upstaged by
Hanni El Khatib's
(http://twitter.com/#!/hannielkhatib)
sick rendition of the Star Spangled Banner to kick off the fashion show.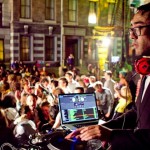 The sold out event raised $100,000 for VH1's Save the Music campaign.  We think a significant amount of money was donated by the throngs of party - goers who were unable to figure out the drink tickets system - good sales job if you ask us.  We even got so confused by it, we tried to sell our soul to one of the vendors for a hot dog.  This was unsuccessful.  We spotted Ty Pennington of Home Makeover fame taking in one of the bands whose name we are unable to spell and /or pronounce.  He had a water in hand.
We think.
Most other people seemed to be wandering around in a circle getting drunker, so thank goodness JetBlue was giving away potato chips with their contest entry.  They were giving away a free flight from Long Beach airport to anywhere in the US - we balked at the Long Beach airport upon entering and they told us they would work with us.  Phew.
Daniel Chang and AR4T Gallery in Laguna curated a huge pop-up gallery and art auction, featuring works by over 50 participating artists, including The Clayton Brothers, Jeff Soto, Dave Kinsey, and Tara McPherson.  We took some postcards. They are now on our fridge.

The runway fashion show lead by Billabong design director Mandy Robinson, was wild.  No seriously, there were animal prints like we've never seen before.  Lots of fringe and snake skin.  And those shirts that make you want to say… " um excuse me, it looks as though someone has removed some of your shirt.."
100% of this year's ticket sales and proceeds from art show and product collaboration auction sales will be donated to The VH1 Save the Music Foundation (http://www.vh1savethemusic.com/).  The Foundation has provided more than $47 million in new musical instruments to 1,750 public schools in more than 100 cities around the country, impacting the lives of over 1.6 million children. Pretty sweet deal if you ask us.  Although was anyone else confused as to why Hayden Panitierre is one of their spokespeople? Does she have a music career we are unaware of?  If so, awesome.