Home » Featured, Headline, Latest, Play
#anotherpieceonsocialnetworkingwowhowcreative
If you're new here, you may want to subscribe. Thanks for visiting!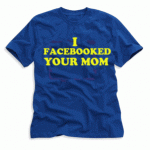 @soikeepsinging (aka my friend Lily) recently tweeted that she is #livingherlifeinhashtags.   Aren't we all doing this?  Why is it that we must check facebook every 20 minutes?  And if no facebook, has someone replied to our latest tweet ?  Must we know what "friend" has commented, posted, poked, messaged, retweeted, liked or gifted us in real time?
Yes, our "friends."  Who the eff are these people?  I mean of course I  know who the eff some of them are.   But the rest??  For those of you that remain uninformed,  a facebook qualification of "friend" does -not- an actual -friend -make.
It's funny, social networking  doesn't necessarily lead to meeting more people, but it does lead to wayyyy more one-on-one time with your computer.  Awesome.  Nothing like solidiying a relationship with an inantimate object. #dohumanrelationshipsreallyexist
Flip phone users, you are actually more with it than one might think.  You pay attention  during conversations, and you actually READ your emails.  Yeah I'm talking to you iphone user, who-read-that-email-so-fast-you-aren't-even-sure-who-its-from-and-immediately-archived-it-with-the-rest-of-your-emails-you-only-skimmed-for-a-second.
And that guy over there holding said iphone in a  slightly vertical slant and pretending to browse the internet but is actually about to take a picture of you?  Yeah, he just posted it to facebook.  Oh and he  probably captioned it with something in hashtags.
4square has to be my favorite.   This thing seems pretty cool; see where your friends are , and if you "check in" to enough locations, you get a badge…yeah. I imagine that to be on par with the amount of pleasure I derived from getting a patch in girl scouts.  Which in case you were wondering, was NONE.
And to anyone who has put their home on this "places" app on facebook; have you ever thought just maybe once, that when you say you are anywhere other than your home that someone might, oh you know, "check in" to YOUR HOME AND STEAL EVERYTHING?
Hey I'm all for people expressing themselves, and social networking sure provides a great avenue for that.  Just don't expect me to make eye contact when we are having a conversation.  I'll probably be too busy tweeting my status while I'm checking in somewhere else.