Home » Latest, Uncategorized
This Christmas
If you're new here, you may want to subscribe. Thanks for visiting!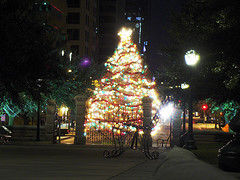 This Christmas I decided to grow up. It sounds silly considering I turned twenty-five last week, but if there is one day you get to act like a kid it is certainly Christmas.
Of course, this declaration is also silly because I pretend that I actually made the choice to grow up. As with most age progressions, growing up chose me, but I like to feign control over the situation. What really happened this year was that my big sister could not come "home" for Christmas for the first time in my life.  Life changed, and I needed to succumb to it.
What surprised me, though, was the lack of shock accompanying this growing up. It seemed more like a natural progression—much like how I knew one day my sister and I wouldn't sleep in the same room, and then one day not in the same house, or even the same state. It's a funny coincidence because I remember when I was little my sister often wanted me to "just grow up" (and usually stop crying).
I don't actually miss being a kid on Christmas as much as I do on some of the other 364 days of the year. On some of those days, when I'm not surrounded by family and friends and magic and love, on the days when being grown up is too difficult, or painful, or sad, well those are the days I wish my big sister would play flashlight tag with me on the ceiling or turn on her radio softly until I fall asleep.
Maybe next year I will leave carrots out for Santa's reindeer because if there is one day you get to remember what it is like to be a kid, it is certainly Christmas.
(Photo courtesy of pixajen via Flickr)