Home » Featured, Latest, Work
The Millennials are Coming
If you're new here, you may want to subscribe. Thanks for visiting!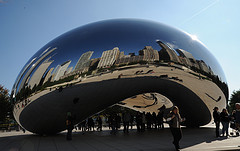 The Millennials, also known as Generation Y, are generally described as being born between 1980 and 2000. Recently, we've been the focus of a lot of discussion. Apparently, much of the world, specifically the work world, is still deciding if they are ready for us. I find this an interesting idea since we're obviously coming-ready or not.
I think some of what I've read about Millennials is smart. I agree that we are a generation unlike all those before. The amount of access to technology throughout our lives obviously makes us unique. Add in Reading Rainbow, group work, and Student of the Week and we clearly grew up as a special breed.
However, I think some of what I've read about Millennials is ridiculous. Just the other day I caught a glimpse of a publication with the headline "Millennials: Problems or Prodigies?" on the cover. I looked right past the assumption that my entire generation could be a problem to the picture of a girl with a laptop and Blackberry. "Is this supposed to be me?" I almost said out loud. I couldn't help laughing. This girl looked like she just walked out of Hot Topic. She was dressed as a strange mix of goth girl (black hair tinted red, dark red lipstick, black hoodie, black fingernails) and punk rocker (studded belt, sneakers, skinny jeans). I failed to categorize her androgynous haircut and black and white striped fingerless glove on one hand. In case I actually have to point this out, I don't know anyone who dresses like this. If I did know someone who looked like this, she would be a social rebel making a statement, not the archetype of my generation.
It's unclear if I should be more afraid that the Millennials are coming or that we're bringing with us a whole generation of fashion disaster.