Home » Featured, Latest, Money, Work
Just a Frog Floating on a Lily Pad
If you're new here, you may want to subscribe. Thanks for visiting!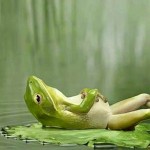 I wonder how a frog lives in a pond devoid of lily pads? Maybe forget about hopping for a while and ponder. Unfortunately, I never developed that skill. As an English professor once told me, "you have a quick mind, too quick to linger on one thing long enough to deeply understand it."
I've spent a lot of quiet time since my unceremonious exit from the biggest show (let's call it what it is, biggest farce) on Earth. I had almost forgotten how quiet felt. Life in the 21st century leaves such little time for reflection. I had almost forgotten how much nicer the Pacific Ocean breeze feels than air conditioner draft; how much nicer palm tree sway sounds than paper ruffle; how much prettier sunlight looks than florescent beam.
Reflex ruled reflection early on as I sprang full sprint to find a new job, as if that would bring the dawn to end all nights. The world's least unique story: chasing better choices—choices I never had, choices my parents never had. Choices that cost me so much more than Wall Street could ever compensate. And choices to do what exactly? Not the choice to spend a sunny afternoon with loved ones, or to sit outside at a café with a close friend at four o'clock in the afternoon—"there will be time for that later," but later always seems to get later.
One lily pad with nowhere to hop, and all the time to float, watching the ripples and waves. Will I need to hop off eventually? Don't think about eventually, just enjoy now.