Home » Featured, Latest, Uncategorized
Dear Apartment #8
If you're new here, you may want to subscribe. Thanks for visiting!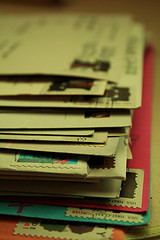 Dear Apartment #8,
Three months ago when I got here, I took a big step. I had just relocated across the country, and I moved in after only seeing you once. So I was pretty shocked when I got the letter today about renewing my lease for another year starting September 2011. Don't get me wrong, it's not that I don't like you. Well, you do have that drastic temperature fluctuation problem with the water in the shower that is really annoying, but, for the most part, we're getting along well. It just seems sort of fast. I'm still getting used to all your little quirks-like the right way to jiggle the key in the front door to get inside with minimal swearing.
My life is changing rapidly these days you see. I'm not sure how to predict what I'll be doing or how I'll be feeling about you next September. I have trouble knowing what I'll be doing next week. I'd be lying if I told you the letter today hadn't caused me a bit of panic. Check yes or no? Have we reached that kind of ultimatum with nine months of contracted time left together?
I was so relieved to see there is a third option… How considerate of you to guess that I may not be emotionally prepared to make this decision and allow me to ask for more time. But how did you manage to wrap up all my twenty-something angst and child-like defiance in one grammatically flawed phrase?
"I need more time to decided!"
Sincerely,
Katie
(Photo courtesy of D Sharon Pruitt via Flickr)