Home » Featured, Headline, Latest, Work
Baptized by Fire
If you're new here, you may want to subscribe. Thanks for visiting!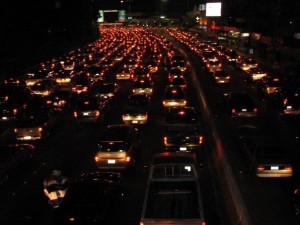 I was walking a beautiful Pre-Law Major home one evening when we happened to take a tedious but inevitable turn in conversation. She asked me what were my plans after college.
I answered quite roguishly (or so I thought) that my major held little practical interest to me and that I intended to write, work odd jobs, and drive from state to state in a year-long odyssey culminating with being a published media darling, or a happy hobo. She was not amused. I remember her response verbatim because it has stuck like an indiscreet stain in the corner of my subconscious ever since, "You really want to make it just by the skin of your teeth?"
I said yes. I had seen every member of my family devoured by their careers and I considered a life unlived tantamount to suicide. And I never saw the beautiful Pre-Law Major again.
My odyssey, however, did not come to pass, owing to my car catching on fire in Mission Viejo, California at nearly the 100,000 mile mark. It was the most horrifying thing I have seen, to this date. Also, gas and motels are considerably more expensive than when Jackie Kerouac and Neal Cassady pulled the same stunt 50 years ago (minus the molotov automobile). So now I work in Dana Point Harbor as a historical re-enactor, able to pay rent but with little in the way of luxuries aside from my memories.
And how do those memories stack against jumping directly into graduate school, studying texts I can not care for and making deadlines I despise?
Wouldn't trade 'em for all the dental epidermis in the world.