Home » Featured, Latest, Work
But I Don't Wanna Be a Rock Star, Mommy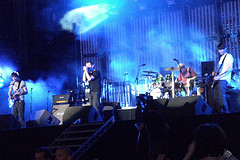 As I job hunt, I have been distracted from my list of "Painful, Tedious, and Obnoxious Things I'd Rather Be Doing" more than a couple times by job ads seeking "rock stars."
These postings confuse me since I feel confident that working an entry-level job in an office is not going to gain me hoards of adoring fans or sexy groupies.  I assume I would not arrive to work every morning to the tune of cheering and clapping.  I'm positive I would not be making millions and get to tour the world.
I decipher then that these ads must be searching for someone who pushes to the limits, begins taking drugs to stay awake for long hours, eventually enters wildly expensive rehab, and burns out at a young age.  Oh please, sign me up for that.
And even when job postings fail to openly promote exploitation of the youngest working generation, they're still demanding.  They advertise for "ambitious, self-starters" who don't want to work the "typical 9 to 5," meaning they want a 22-year-old who will survive on three hours of sleep and complete the work of three people in exchange for a meager wage.  As soon as one "rock star" burns out they can hire another.  There is always another boy band in the wings waiting to be the next Backstreet Boys or NSYNC, and if not, reality TV can create it.  (Who didn't love O-Town?)
I want to be honest, but I probably won't get a job if I tell my potential employer, "I'm a better worker when I am happy, and what makes me happy is having low stress in my life, getting eight hours of sleep a night, and having plenty of free time away from work."
If I'd wanted to be a rock star, I could have dropped out of school when I had the chance.
(Image courtesy of Martin Pettitt via Flickr)